7 Most Intelligent Dog Breeds
Every dog has unique qualities that make them special. However, some breeds are better known for their intelligence and have been tailored for specific purposes.
There are ways to measure the intelligence of a dog. The most intelligent dog breeds tend to be working dogs or dogs that excel at sports and agility. Pups who learn commands quickly and are highly obedient are usually considered among the most intelligent dog breeds.
Intelligent dogs also require an adequate amount of physical and mental stimulation. If you want to find out which dog breeds are the most intelligent, check out this pawsome article!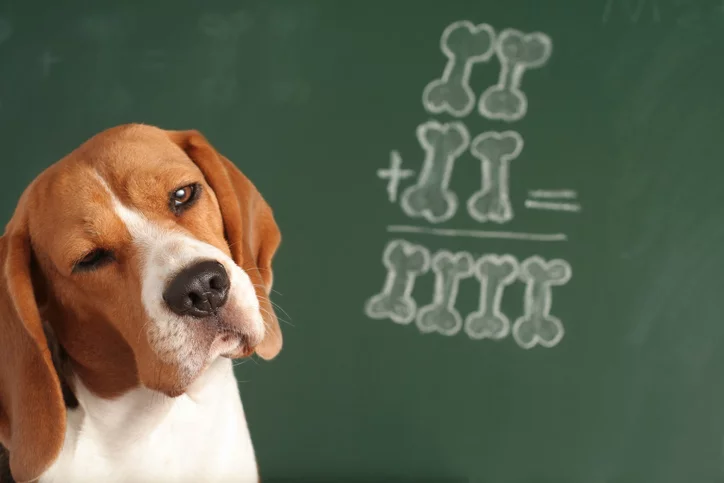 How Do You Determine a Dog's Intelligence?
Stanley Coren, a psychology professor and researcher wrote a book called "The Intelligence of Dogs." The book ranks over 100 different dog breeds according to their intelligence. Professor Cohen says that 51 percent of a dog's intelligence is genetic, and the other 49 percent comes from their environment.
Cohen says that there are three forms of dog intelligence:
Adaptive
Instinctive
Working and obedience
These factors assess the pup's critical thinking skills, obedience, memory, social training, and powers of observation. If the dog is obedient, it means that they are capable of learning from humans. Through much research, Cohen compiled a list of the brightest dogs, including the Border Collie, Poodle, and German Shepherd. Furthermore, additional breeds included:
Doberman Pinscher
Golden Retriever
Labrador Retriever
Rottweiler
Shetland Sheepdog
These dogs are the most obedient and tend to learn the fastest and the best. The above dogs took less than five repetitions to understand each new command. The results are based on observations from over two hundred judges.
What Are The Smartest Dog Breeds?
It can be impressive when a dog is extremely intelligent. However, even if a specific breed of dog did not make it onto this list, it does not mean they are not good pets. Every dog has some level of intelligence. The research demonstrates that the following pups tend to have higher intelligence and more of a propensity to be obedient. The list is in order of the pup with the highest intelligence.
1) Border Collie
Border Collies are brilliant dogs. They were bred for herding sheep, and some still have this duty today. The Border Collie gets a few commands from their handler, and the pup can make quick decisions that enable them to navigate the sheep. This sweet pup should be proud, as they always ensure that the sheep go where they should.
Some of the personality traits of the Border Collie:
Alert
Energetic
Hardworking
Smart
Border Collies have the speed and coordination to come out top dog when it comes to dog sports, like agility. There was a border collie named Chaser from South Carolina who could recognize over 1,000 words. The border collie thrives on constant mental stimulation and work. The breed is not only remarkably intelligent, but they also make excellent companions.
2) Poodle
The poodle is not only attractive and elegant, but they also have superior intelligence. The breed is both cognitively and emotionally intelligent. These pups are highly active and were initially bred for water retrieving. The poodle was also employed during wartime to deliver supplies to soldiers. It is a job that requires challenging work, problem-solving abilities, recall, and the powers of observation.
Some of the personality attributes of the poodle:
Loyal
Trainable
Active
Instinctual
Poodles are also used to be service or assistance dogs. They are great athletes and excel at agility. Poodles are also extremely clever and clear-minded dogs who enjoy activities that challenge them physically and mentally. The poodle is also adept at tricks and is a great family dog due to their loving, easy-going nature.
3) German Shepherd
The German Shepherd is the top choice when it comes to being a police or military dog. They are educated to sniff out drugs and bombs and catch bad guys, and these canines are in top working condition. They are courageous and proud, as they are heroes in their own right. These pups are loyal and protective of their humans and families.
Some of the personality traits of the German Shepherd include confidence, bravery, and powerful yet gentle behavior.
German Shepherds are often bred for their high intelligence. They can quickly assess situations and determine the best course of action, which is why they are often seen working in law enforcement and search and rescue teams. They are also used as service dogs for people with disabilities.
4) Golden Retriever
If you ask most individuals what their favorite dog in America is, they will say it is the Golden Retriever. Not only are they one of the most popular family dogs, but they are also remarkably intelligent. They were originally bred as hunting dogs. They are enthusiastic to please, which makes them follow commands impeccably well.
Some of the personality traits of the Golden Retriever are:
Even tempered
Playful
Affectionate
Calm
The Golden Retriever is the best dog to help people with disabilities. Because they are so gentle and agreeable, they fit well in various situations.
5) Doberman Pinscher
The Doberman Pinscher is the quintessential guard dog. Known for being the perfect canine protector, they were bred for this purpose. They are highly trainable and take direction very well. These pups are fearless and quick. Their muscular build can be intimidating, but Doberman Pinschers can be quite gentle and are faithful companions.
Some of the personality traits of the Doberman Pinscher:
Strong
Assertive
Outgoing
Sweet
These dogs put on their game face when it comes to their job as a watchdog, but truthfully, they make great pets because they genuinely love their humans. Initially bred by a German tax collector for protection, they are fiercely loyal pups.
6) Shetland Sheepdog
The Shetland Sheepdog is affectionately referred to as the "sheltie." They are not only adorable, but they are also brilliant pups. They are great at learning new commands and following directions. They are also excellent family dogs.
Shetland Sheepdogs are loving, devoted, loyal, and easy-going. Furthermore, the Shetland Sheepdog has an innate ability to sense danger, which makes them excellent watchdogs. This pup will let you know when a stranger comes to your door.
7) Labrador Retriever
Labradors are excellent service, emotional support, and assistance dogs. They were initially bred for duck hunting and have a keen sense of smell. They have also been the most popular dog breed for over two decades, as they make fantastic family dogs.
Some of the personality traits of the Labrador Retriever:
Sweet-natured
Enthusiastic
Affectionate
Loyal
This dog is used for detecting narcotics and other police work. It is the sole intention of the Labrador Retriever to please their humans.
Conclusion
If you are looking to adopt an intelligent dog, you must be prepared to work hard. Smart pups often require a lot of physical and mental stimulation, but the reward is unconditional love. It is important to remember that all dogs are intelligent to some degree and all pups are deserving of our love and affection, regardless of breed.
For dog parents in the Atlanta, GA region, The Village Vets has 6 general veterinary practices and a 24/7 emergency vet clinic to treat your pup. Visit our site today to find a location near you!
The Village Vets is a network of animal hospitals based in Atlanta, GA and the surrounding area. We offer honest, excellent service to our clients in a comfortable, friendly atmosphere. To learn more about our locations and how we can better serve you and your pet, click the button below.
The Village Vets is a network of animal hospitals based in Atlanta, GA and the surrounding area. We offer honest, excellent service to our clients in a comfortable, friendly atmosphere. To learn more about our locations and how we can better serve you and your pet, click the button below.